Issaqueena's Last Ride
Walhalla, SC
Posted: 1-16-2021 at 9:30 am
First and foremost from your ILR committee, WE MISS YOU!!!  Due to the pandemic, we had to cancel our ride in 2020. We were so looking forward to seeing you back in Walhalla, SC for 2021, but unfortunately and with broken hearts, we believe that it is in the best interest of your health and ours to cancel the 2021 ride. However, we would love to see your wheels spinning and hope that you will choose our routes for your "fun" rides. If there is anything we can do to help facilitate that, please reach out to us at ken@visitoconeesc.com. We hope that you have a great, safe, and healthy 2021 and we look forward to seeing you in 2022.
Beautiful & challenging mountain ride.
Issaqueena's Last Ride is a challenging, mountain ride through the beautiful Blue Ridge Mountains and Foothills of South Carolina.
The three longer rides are highlighted by the climb to Wigington Overlook where one is rewarded with expansive views of Lake Jocassee and the surrounding Carolina Piedmont. The 30 and 52 mile rides stay in the flatter areas of Salem and Tamassee where the roads are gently rolling with no difficult climbs. All routes feature scenic rural roads with little traffic.
Registration fee includes pre-ride coffee and baked goods, post-ride meal, T-Shirt, cue sheets, SAG, and fully stocked rest stops.
Some of the many door prizes include cycling gear from REI, Terry Bicycles and Southpaw Cycles, rafting passes from Nantahala Outdoor Center, zipline passes from Wildwater and free registration to other local bike events.
The ride benefits Safe Harbor, providing shelter to victims of domestic violence. Palmetto Conservation Foundation for development of bike trails in Oconee County and St. Johns Lutheran Church supporting their Backpack program sending food home on the week-ends to kids in need.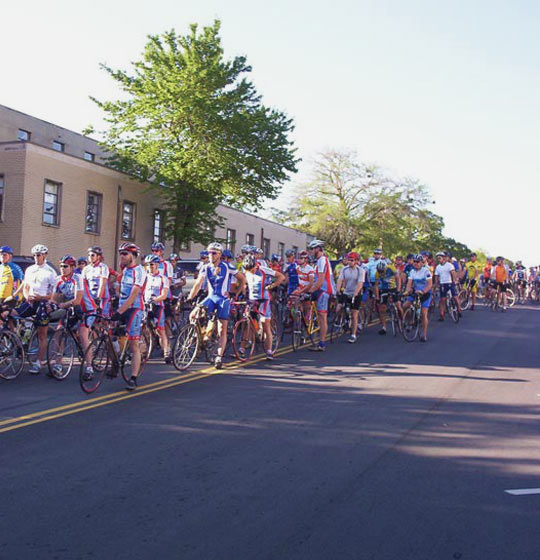 Stay, Play & Ride in Oconee County, SC

The first 50 riders to register will receive a $20 gift card from Trek stores of SC (Greenville, Anderson and Spartanburg) and Atlanta Cycling.
Ride support provided by Speed Shop Cycles in Anderson, SC
The first male and female riders of the metric and the first male and female riders of the 100/80 routes to reach the Wigington Overlook rest stop will receive awards.
You must pre-register by April 3 to be guaranteed a tee-shirt. 
Tee-shirts will be available on a first come first serve basis 
for registrations received after April 3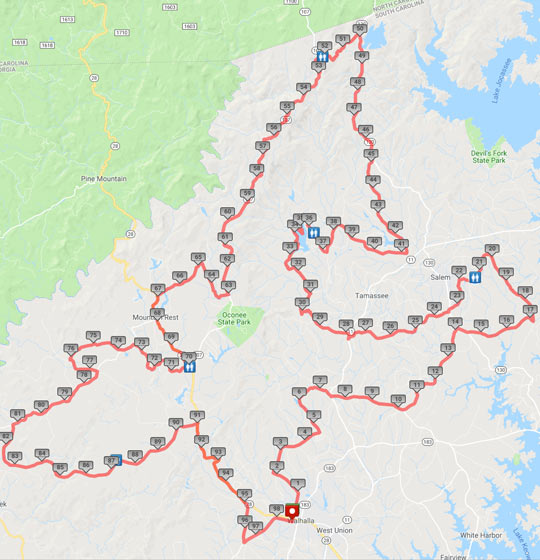 Please Support Our Sponsors!
Nestled in the foothills of the Blue Ridge Mountains, there once lived a Creek Indian maiden named Issaqueena, in a village called Keowee Town, aptly named for the beautiful Keowee River. Issaqueena was captured from her native land and Creek tribe by the Cherokees, most likely during a battle over land, the great battle of Taliwa.  The Cherokees were known for trading with the English who had also begun to settle in the area.  
Issaqueena fell in love with one of these English traders, Francis Allen.  One night she overhead a tribunal talk of attacking Star Fort, where Allen had gone to do business.  She jumped on her pony and made the 96-mile trek to alert Allen and the fort of the impending attack.  Her mission was successful and she and Allen were married and had a son borne of the union.  Later, while Allen was away on another business trip, the Cherokees decided to seek retribution against Issaqueena and her child.  
Legend goes that she made another daring escape and led the pursuing Cherokees to a 200-foot waterfall and jumped in.  Issaqueena knew the Cherokees believed the waterfalls contained evil spirits and would go no further.  Thinking she and her child had perished the Cherokees gave up their pursuit, never knowing she had hidden behind a ledge in the falls until she and her infant could safely be reunited with her beloved husband.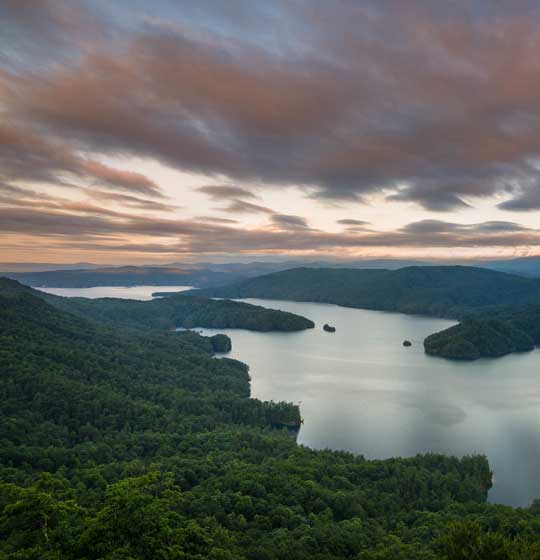 The century route tours the back roads north of Walhalla through the Salem community and around Lake Cherokee before the 5 mile climb up Highway 130. The ride is highlighted by a 1 mile ascent up Wigington Pass with grades reaching 14%. Despite several long descents there are still some rolling hills and a couple of noteworthy ascents before returning to Walhalla. Those riders arriving at the fourth rest stop at Monte Vista Church at mile 72 after 2:45 should divert to the the metric route to return to Walhalla. Route closes and SAG availability ends at 5:00. Total elevation gain is ~8000 ft.
This route follows the 100 mile route traveling through the backroads of the Salem and Lake Cherokee areas and including the 6 mile climb to the top of Wigington Pass. From Wigington Pass the route then follows the 60 mile route which is mostly downhill with a few moderate climbs before returning to Walhalla. This is a good option for those 100 mile riders arriving at the Monte Vista rest stop at mile 72 after 2:45. Total elevation gain is 6400 feet.
The metric includes moderate hills north of Walhalla offering great views of the Blue Ridge Foothills before starting the 5 mile climb up Highway 130. Shortly after completing this climb the route turns steeply upward with the thigh-burning 1 mile ascent up Wigington Pass with grades reaching 14%. From here it is mostly downhill but there are still several moderate climbs remaining. Total elevation gain is ~5000 ft.
This middle distance route does not have the difficult climbs of the 3 longer routes. This route follows the quiet and rolling roads of Salem and the Tamassee area with views of the nearby Blue Ridge Mountains. Total elevation gain is ~3000 ft. 
This slightly hilly route winds it way north of Walhalla but does not include the mountain section of the longer routes. The route makes its way around Lake Cherokee before returning to Walhalla. One rest stop midway provides refreshments. Total elevation gain is ~2100 ft.